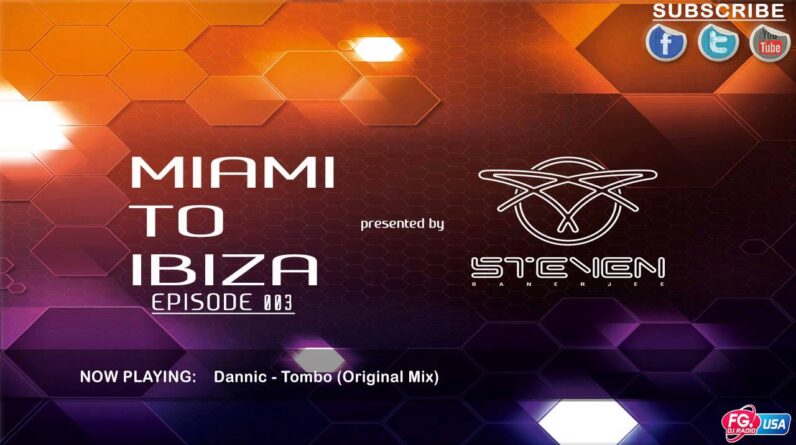 Lesley Lyon hosting Steven's "Miami To Ibiza" Episode 003.
http://www.lesleylyon.com
http://www.femaleDJdrops.com
https://soundcloud.com/femaledjdrops
http://www.facebook.com/LesleyLyonVoiceOvers
https://www.twitter.com/LesleyLyonVoice
https://www.youtube.com/user/voiceoverlesleylyon
Subscribe on iTunes "Miami To Ibiza":
http://bit.ly/MiamiToIbizaPodcast
"Miami To Ibiza" will give everyone's weekend that extra boost, by bringing Steven's trendsetting and original sound! Next to Steven's floor fillers, the show gives a platform to new DJ talent with every episode having an "Artist Of The Week". Be sure to tune in!
Download: http://bit.ly/miamitoibiza003
001 – Vicetone – California (Original Mix)
002 – Jordy Dazz – Claymore (Original Mix)
003 – Dannic – Clobber (Original Club Mix)
004 – Korr A – Fiyacraka (Sick Individuals Club Remix)
005 – Dimitri Vangelis & Wyman Feat Jonny Rose – Pieces Of Light (Sick Individuals Remix)
006 – Paul Van Dyk Feat Adam Young – Eternity (Riley & Durrant Remix)
007 – Dannic – Tombo (Original Mix)
008 – Snap Ft Rob Marmot, My Digital Enemy – Rythm Is A African Dancer (Eric Mendosa Mashup)
009 – Avicii vs Lenny Kravitz – Superlove vs Ken Loi ft Zasha – All It Takes (Mikael Weermets & Bauer Lanford Bootleg)
010 – Junior Jack – E Samba (Joeysuki Bootleg)
011 – FEATURED ARTIST OF THE WEEK "IVAN KAY" – DJ Fiorez – Let The Bass Kick (Ivan Kay Killer Mix)
012 – Robert Fulton, Trasko – New Years Day (Original Mix)
013 – Nicky Romero & NERVO – Like Home (Gregor Salto Remix)
Hosted By: Lesley Lyon
http://www.lesleylyon.com
For more info check:
http://miamitoibiza.com
http://twitter.com/stevenmusica
http://www.facebook.com/miamitoibizao…
http://radiofgusa.com/steven-banerjee/
Subscribe on iTunes "Miami To Ibiza":
http://bit.ly/MiamiToIbizaPodcast